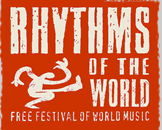 12 & 13 July 2008
performers
PERFORMER BIOGS
SELECTION POLICY
For me the Rhythms of the World Festival is all about bringing differences together — be it different musical styles, cultures, arts, prose — or to put it simply, people. We live our life in boxes, hemmed in from everything by our own walls, and for me ROTW is about providing that all too rare opportunity for people from all walks of life to come out of their boxes, lose their inhibitions and enjoy the simple pleasure of being together, ultimately creating a community that honours and celebrates all our differences. Coming to ROTW is more about the experience of the Festival and its music, of being part of something much bigger, than simply coming along to watch a few 'household name' bands perform.
Those of you who have already been to Rhythms — as we all fondly call it — will know exactly what I mean. ROTW is about the unexpected, the different and the new. As such we have what I like to call an 'open' performer booking policy. By that I mean we are keen to attract performers of all genres, from rock to opera, religious music to punk, solo artists to big bands, performance art to circus acts, poets to mime, and from all over the world. Variety and quality are our only criteria.
And guess what — I've got the best job of all, being responsible for pulling the Festival's artistic programme together. At ROTW 2007 we had some 190 acts: that's a total of over 900 performers on 10 stages during the two days, and I'm really keen to expand and explore even further. So, if you think you can add yet more colour and variety to the Festival or you know an artist or band who could, I'd love to hear from you. Please send any videos, demos, recordings and information to me at ROTW or simply pick up the phone and get in touch; the best approach is to email and put something in the post.
Bob Mardon
Performance Director
Email:
or Tel: 01462 454649 or 07702 595525.
ROTW, PO Box 121, Hitchin, Hertfordshire. SG5 2WB.