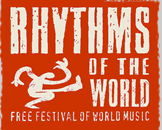 12 & 13 July 2008
performers
WANT TO PERFORM?
Are you interested in performing at Rhythms of the World? Do you think you would add to the flavour and colour of the festival?
We are interested in almost anything — from the most obscure world music to drum and bass; from string quartets to rock; performance art, circus acts and street performers; from solo artists to big bands; choirs, jazz and buskers ;from spoken word, mime, theatre and traditional folk to experimental techno — you get the picture!
Our name is based on variety and quality: these are the only qualifying criteria.
If you are a performer or band interested in appearing at Rhythms of the World, please take one of the following routes:
Either
Send an email with:
Name
Full contact details including email address
Link to your website and/or my space with music, biog and pictures
Detail of where you are based

to

[email protected]





This is the preferred method as we can easily forward your application and links around the booking team.
Or
Send a message or friend request to:
www.myspace.com/rotwbookings
Or if the above is not possible or applicable then…..
Send a letter with:
Name
Full contact details including email address
Demo CD, DVD or Video
Photo
Website address (if available)
Detail of where you are based
to:
Performers
Rhythms of the World
PO Box 121
Hitchin
Hertfordshire
SG5 2WB
UK
PLEASE NOTE:
For you to be included in the full selection process and stand a good chance of performing, we need this information by 13th February