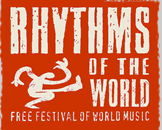 12 & 13 July 2008
NEWS & EVENTS
LATEST NEWS
Hitchin came out in force!
Despite the intermittent rain, people came out in force to enjoy ROTW 2008. From the Arena with its dancers and tug-of-war to Billy Cobhan and No 1 Station on the main stage, the day was certainly one to remember.
Less than 24 hours to go!!
Tickets are still available on the door. Gates open at 11am.
Tickets and programmes now on sale!
Tickets for ROTW 2008 have now gone on sale - in local outlets as well as online. Check out our homepage for a full list of local ticket venues. Programmes are also available for just £2 from the following outlets:
Hitchin
CD Heaven - Churchyard
Club 85 - Whinbush Road
Drinkstop - Bancroft
Eric T Moore Books - Bridge Street
The Half Moon Pub - Queen Street
Harvest Moon - Bucklersbury
Hitchin Town Centre Initiative - Churchyard
Merryfields - Sun Street
Molly Malone's Pub - Nightingale Road
The Sunrunner Pub – Bancroft
The Victoria Pub, Ickleford Road
...and in Hitchin Market Place on Saturday, 5th July!
Letchworth
David's Music, Eastcheap
More outlets to be confirmed here soon!
Rhythms of the World and Hitchin Priory Get in Tune to Launch 2008 Festival

Local venue steps up to host community celebration of world culture
Charity festival's venue and dates confirmed for Summer '08
The Trustees and Committee of Rhythms of the World (ROTW) and The Chartridge Conference Company today announce that ROTW 2008 will take place in the grounds of Hitchin Priory on Saturday 12th and Sunday 13th July.
Matt Wyle, Chair of ROTW said: "This is brilliant news for the festival - Hitchin Priory is a great venue to continue the adventure that is Rhythms. We are hugely grateful to Thierry Viatge of the Chartridge Conference Company who has worked with us over the past few weeks to help ensure this summer's festival stays local to everyone who has enjoyed and supported the event over the past 16 years."

Thierry Viatge, the new General Manager of Hitchin Priory said: "We are absolutely delighted to be able to play our part in supporting ROTW and making the beautiful idea that is Rhythms a reality for 2008. Our sponsorship shows our commitment to the community of Hitchin – after all, the Priory has been a local focal point since the Middle Ages and what better setting than Priory Park to celebrate the best of local and world culture."

"The challenge facing us over the next five months is to turn the dreams into reality," commented Adrian Knight, ROTW's Event Licensee. "The Committee and our volunteers, the artists and our sponsors, and most importantly the community of Hitchin, have all made Rhythms such a beautiful, unique and successful event in the past. Everyone has the opportunity to play their part in helping Rhythms continue and flourish - whether by becoming a sponsor or volunteering to join our team for the weekend. For everyone on the Committee the hard work has already started. There is still a huge amount to do but we're confident, given the overwhelming support of Hitchin's community, that it can be done."

Subject to a being granted a Premises Licence, ROTW 2008 will run from midday until 11pm on the Saturday and from midday until 9pm on the Sunday. There will be performances of a worldwide range of music and dance across six stages, a children's area, art displays and, for the very first time, a grass 'Arena' which local sporting and other community groups can use to both compete in and exhibit.

A summer fete in the heart of Hitchin!!

In October 2007 the Trustees took the decision that the event could no longer be held in Hitchin town centre as it was increasingly difficult to manage it spread across many venues. A number of local venues were investigated before the decision to hold ROTW 2008 at Hitchin Priory was taken.

For the first time there will be an admittance charge of approximately £5 per day. ROTW is still finalising the budget, but can assure everyone that the admittance charge will be kept as low as possible. Unfortunately, this is now the only way that ROTW can cover the ever increasing costs of running the festival and will also raise funds to support more community projects – something that has been an unfulfilled aim of the ROTW Charity for many years.

Rhythms of the World will be holding an Open Day in Hitchin Market Place on Saturday 23rd of February between 11.00 am to 3.00 pm where you can find out more about the plans for this summer's event, the aims and objectives of the charity and how you can get involved and play your part in ensuring that ROTW 2008 is once again an event to make Hitchin proud.
Full ticketing information will be available after Easter on the website at www.rotw.org.uk
Posted: 11-February-08
Rhythms of the World organising committee meetings take place at Club 85, Whinbush Road, Hitchin.
Meetings take place on the first and third Monday of each month.
If you are interested in getting involved in helping Rhythms of the World, feel free to come along or check our how you can help here.
Posted: 10 December 2007
Open letter published in The Comet newspaper
Dear Sir,

I am writing on behalf of the Trustees and Committee of Rhythms of the World (ROTW) following the debate raised by our decision to hold future ROTW events on a greenfield site.

As you quite rightly note in your Editorial (The Comet 11 October), this decision was taken solely by the Trustees and Committee and was not a result of pressure from any other authority, such as the Council or the Police, as has been mentioned by some commentators. Indeed, ROTW has excellent relations with these bodies. This decision was not taken in haste nor was it taken lightly. It is the result of the increasing pressure that has been mounting on our town over a number of years.

The Trustees and Committee truly believe that a change to strengthen, not diminish, ROTW is now essential. We are totally committed to continuing the community ownership that is unique to ROTW and we believe this can be achieved through working with all the local people and organisations that have been involved in the past, and also have the space to invite many more that haven't previously been involved.

A new site is an opportunity to do things better than we have done before, include things we have never been able to do before and an opportunity to involve more of the community than ever before. ROTW has to evolve in order to survive, and everyone in our community can play their part in keeping this event unique, special and exciting.

We are acutely aware of the debate our decision has raised, so we are holding an Open Evening at 8.00 pm on Monday November 12th at Club 85 on Whinbush Road, Hitchin to which we invite anyone with an interest in ROTW to come along to discuss the event, our decision and how we can all play a role to ensure it continues successfully long into the future.

Yours sincerely,

Matt Wyle
Chairman of Rhythms of the World

PO Box 121
Hitchin, Herts
SG5 2WB

www.rotw.org.uk

Registered Charity No. 1090835
Posted: 16-October-07
Rhythms of the World opens a new chapter
Trustees and Committee of Rhythms of the World have decided that it is no longer possible to hold the event in its present format in Hitchin Town Centre.
As Matt Wyle, Chairman of ROTW says 'Rhythms has been an overwhelming success and has grown and changed over its 16 years. So many groups and people from the community now want to get involved and attend the event that we need more space. The Town Centre just hasn't got enough room for what we want in the future. In addition the sheer number of people now attending puts too much pressure on the Town; coupled with the increasing costs and it means that it is now time to move away from the centre of Hitchin.'
One of the options Rhythms of the World is looking at is to move to a greenfield site in close proximity to Hitchin. Such a site would have room for a large main stage and old favourites like the Phill Friendly Stage, the Willow Stage, the Arcadeclectic stage, the Blunt Beats chill out area, a bigger Children's area and have scope for much more, so we can better meet our charitable aims and objectives and offer more local groups and organisations the chance to be involved and take some ownership of the event.
A move to a new site will mean another chapter in the rich history of ROTW. As Matt says 'We see Rhythms very much as a blank canvas which anyone or any group with an idea and enthusiasm can use  - ROTW evolves every year and this, although perhaps a bigger step, is really no different.'
Adrian Knight, another ROTW Trustee and the Event Licensee, says 'We urgently need to find a suitable site for next year and we'd really like to talk to anyone who thinks they can help'. 
The Trustees and Committee would like to thank everyone who has, in any way, supported and enjoyed ROTW. It has been a remarkable story over the past 16 years and, as another chapter opens, we hope that everyone will continue to support the beautiful idea that is ROTW – a celebration of the amazing diversity and talent of our whole community.
The Trustees of ROTW
Posted: 2-October-07
Rhythms of the World is organize entirely by volunteers from your community. Please show your support for all these people by following the Rhythms Code.
The Rhythms Code
1. Enjoy the unusual, each day of the festival
2. Respect the town of Hitchin for hosting the festival
3. Take personal responsibility for your rubbish
4. Do not bring glass with you into the town
5. Show your appreciation
6. Leave your car at home