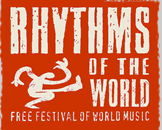 12 & 13 July 2008
news & EVENTS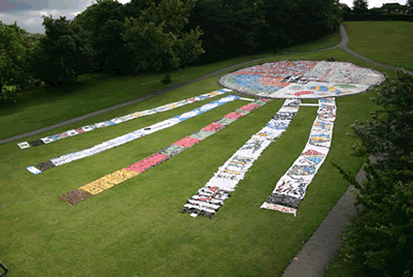 2008 NEWS
Rhythms of the World organising committee meetings take place at Club 85, Whinbush Road, Hitchin.
Meetings take place on the first and third Monday of each month.
If you are interested in getting involved in helping Rhythms of the World, feel free to come along or check our how you can help here.
Posted: 10 December 2007
Open letter published in The Comet newspaper
Dear Sir,

I am writing on behalf of the Trustees and Committee of Rhythms of the World (ROTW) following the debate raised by our decision to hold future ROTW events on a greenfield site.

As you quite rightly note in your Editorial (The Comet 11 October), this decision was taken solely by the Trustees and Committee and was not a result of pressure from any other authority, such as the Council or the Police, as has been mentioned by some commentators. Indeed, ROTW has excellent relations with these bodies. This decision was not taken in haste nor was it taken lightly. It is the result of the increasing pressure that has been mounting on our town over a number of years.

The Trustees and Committee truly believe that a change to strengthen, not diminish, ROTW is now essential. We are totally committed to continuing the community ownership that is unique to ROTW and we believe this can be achieved through working with all the local people and organisations that have been involved in the past, and also have the space to invite many more that haven't previously been involved.

A new site is an opportunity to do things better than we have done before, include things we have never been able to do before and an opportunity to involve more of the community than ever before. ROTW has to evolve in order to survive, and everyone in our community can play their part in keeping this event unique, special and exciting.

We are acutely aware of the debate our decision has raised, so we are holding an Open Evening at 8.00 pm on Monday November 12th at Club 85 on Whinbush Road, Hitchin to which we invite anyone with an interest in ROTW to come along to discuss the event, our decision and how we can all play a role to ensure it continues successfully long into the future.

Yours sincerely,

Matt Wyle
Chairman of Rhythms of the World

PO Box 121
Hitchin, Herts
SG5 2WB

www.rotw.org.uk

Registered Charity No. 1090835
Posted: 16-October-07
Rhythms of the World opens a new chapter
Trustees and Committee of Rhythms of the World have decided that it is no longer possible to hold the event in its present format in Hitchin Town Centre.
As Matt Wyle, Chairman of ROTW says 'Rhythms has been an overwhelming success and has grown and changed over its 16 years. So many groups and people from the community now want to get involved and attend the event that we need more space. The Town Centre just hasn't got enough room for what we want in the future. In addition the sheer number of people now attending puts too much pressure on the Town; coupled with the increasing costs and it means that it is now time to move away from the centre of Hitchin.'
One of the options Rhythms of the World is looking at is to move to a greenfield site in close proximity to Hitchin. Such a site would have room for a large main stage and old favourites like the Phill Friendly Stage, the Willow Stage, the Arcadeclectic stage, the Blunt Beats chill out area, a bigger Children's area and have scope for much more, so we can better meet our charitable aims and objectives and offer more local groups and organisations the chance to be involved and take some ownership of the event.
A move to a new site will mean another chapter in the rich history of ROTW. As Matt says 'We see Rhythms very much as a blank canvas which anyone or any group with an idea and enthusiasm can use  - ROTW evolves every year and this, although perhaps a bigger step, is really no different.'
Adrian Knight, another ROTW Trustee and the Event Licensee, says 'We urgently need to find a suitable site for next year and we'd really like to talk to anyone who thinks they can help'. 
The Trustees and Committee would like to thank everyone who has, in any way, supported and enjoyed ROTW. It has been a remarkable story over the past 16 years and, as another chapter opens, we hope that everyone will continue to support the beautiful idea that is ROTW – a celebration of the amazing diversity and talent of our whole community.
The Trustees of ROTW
Posted: 2-October-07
2005 NEWS
"Images of Rhythms" winners
Re live the summer with the winners of the "Images of Rhythms" photographic competition.
Sponsored by Smart Cartridge
Posted: 14-December-05
---
Donate Online at Givenow.org
You can now make a donation to Rhythms of the World online at Givenow.org.
Every penny goes into the cost of running this great community event. You can even register for gift aid, so for every £1 you give we receive an extra 28p.
Help us make Rhythms of the World 2006 the best ever.
For more information about donation to Rhythms of the World click here.
Posted: 9-November-05
---
Come and meet us - Get involved
Interested in getting involved with ROTW then come along to the Market Place Stall on Saturday 22nd October 2005 for a chat, info, and buy one of the last ROTW T Shirts!
Take a look at what we need people to do and let us know if you can help. See our vacancies.
You'll find us in the Market Place between 11.00am to 3.00pm. See you there.
Posted: 23-September-05
---
Rhythms of the World 2005 poster
The Rhythms of the World 2005 poster is now available. Print it out and help us to publicise this years festival. Thank you.
Click here to download pdf
Posted: 1-July-05
---
Rhythms of the World programmes will be on sale from Thursday 30th June. Packed full of information, it's your essential guide to the festival. Programmes cost £1 and are available from:
Club 85 — Hitchin
Hitchin Initiative — Hitchin
CD Heaven — Hitchin
The Nightingale pub — Hitchin
The Hair Shop — Hitchin
David's Music — Letchworth
Posted: 30-June-05
---
Running the campsite
Rhythms of the World is looking for clubs, fundraising organisations or other teams to earn £500-£1000 by running the campsite for musicians, volunteers and traders.
They will need to run the site from Friday 16.00 to Monday 10.00. Tasks involve: Registering campers on a form , collecting the fees. 24 hour presence on site to guard the site, keep the site quiet and tidy. Any welcome as long as the volunteers are 18+ of age.
Please call Bob Mardon (01462 434801) or Christine Neal (07702 595525) if you can help.
Posted: 29-June-05
---
'Images of Rhythms' photographic competition
Smart Cartridge of Hitchin are proud to sponsor our inaugural 'Images of Rhythms' photographic competition. Use your skill and imagination to capture the image that sums up ROTW and you could win one of ten fantastic prizes including :
Computer and Monitor
Colour Inkjet Printer
£50 Smart Cartridge Voucher
Entry forms are £1 (to support ROTW) and are available now from Smart Cartridge, 43 Hermitage Road, Hitchin or from the ROTW Merchandise stalls over the ROTW Festival weekend.
Competition sponsored by
Posted 18-June-05
---
If you are over 18 and available to do a shift as a steward at this years' festival, then come along and sign up. The training will take about 1.5 hours and is at CLUB 85 on Monday 20th and Monday 27th June starting at 7.30pm both nights.
Click here to find out more about stewarding at Rhythms of the world or contact Geoff Preece at
Bob Mardon Posted 16-June-05
---
Thank you — The most successful Rhythms benefit gig ever
A big thank you to Matt and Owen from Pathology. They were the ones that had the idea and pulled it all together.
Manboob, Pathology, Escape 1942, Vanilla Nightmare, Ormoste Ordinary, Left Engine and Sniper all gave a tremendous show and made a great night even better.
Thank you Al and Goody who ran the sound, the stage and kept it all together, for a great night of excitement and fun.
The Rhythms fundraiser raised an amazing £1,150. Add on the £275 from the benefit the previous week and that makes a whacking great £1,425. On behalf of the trustees of Rhythms I thank you all and I can promise you this year's festival WILL be the best yet!!
Thank you!
Bob Mardon Posted 7-June-05
---
One Voice Music workshops at Rhythms of the World 05
This year One Voice music presents a new samba fusion project, EDUN ARA ~ bloco de carnaval, a weekend of percussion & dance workshops and costumed parade.
Percussion grooves are colourful & melodic and are played on Batucada instruments: surdos, repiniques, snares, tamborims, bells, shakers & timbas. The choreography learnt by the dances consists of movements arranged to fit the music presented by the drummers.
Each piece of music and dance that we'll work on has a theme (or themes) reflecting the common roots found in Afrobrazilian & Afrocuban music.
The material will be a fusion of ideas drawn from Samba Batucada, Maracatu, Samba Reggae, Ijexa, 6/8 & funky Afro Bloc grooves from Brazil with ideas from Cuban percussion such as Bata rhythms, Rumba, Conga & Salsa bringing together patterns & phrases creatively arranged to produce exciting dance grooves.
Raz & Sallie, who have many years' experience in teaching and performance, are presenting this new project that draws on their wide range of interests in various forms of percussion & dance. The material strongly features their interest in different Brazilian & Cuban music styles that have hugely influenced their professional careers. This project and their Samba Fusion workshops always provide challenges for participants enabling them to develop their skills, are highly energetic & FUN!
For more information please contact
Posted 28-May-05
---
Steward Swap
We have made an arrangement with the organisers of Cambridge Strawberry Fair to help each other out with extra volunteer stewards. They will send as many as they can to help us at our festival, and we will do the same for them. Remember — Rhythms is significantly bigger than ever before, so we still NEED all of you to help with the event if you possibly can.
Anyone who fancies going to Strawberry Fair, please get in touch with me and let me know. You will get a free meal, go to a very big festival, and get some welcome experience. Its a good opportunity for anyone new to this to get some practice in. I can get a limited number of car parking vouchers and spaces. They also have a carnival procession on public streets, as do we, so this will be well worth going along to. Strawberry Fair is two weeks away; please get in touch asap.
Strawberry Fair
Midsummer Common, Cambridge,
Saturday 4th June 2005
A huge music festival that draws an audience of 12,000+ every year. There are a number of music stages, plenty of stalls for weird and wonderful things as well as food and drink, and a massive kids area with bouncy castles, face painting, art, drama workshops, you name it — this part of the festival is a family day out for kids of all ages. I'll be there as much as I can.
And its all FREE.
Music will cover a huge variety of tastes, including rock, reggae, dance, etc. There are dedicated stages far apart from one another, so you can enjoy or avoid as you wish. The future stage is for under-18s, with music and other acts. The carnival procession starts and ends at the festival, going through a bit of the town en-route. Expect to see home fantastic costumes, samba drumming troupe, etc. Ive been asked not to give any "secrets" away, but as ever there will be some well known bands performing, some very popular ones and some very talented ones too.
There's always a very big headline act: you have heard of them.
Geoffrey Preece Posted 23-May-05
---
Stewards Needed
We've reached that time of year when we desperately seek every able-bodied person and most others too to help with the stewarding of this year's festival. As you might by now predict, this year's event is going to be bigger and better than ever, with yet another stage and a carnival procession in planning. We need more people to help than ever before.
Last year about 140 stewards turned up on the days. Everybody did their bit, and some did a huge amount more than that. I thank each and every one of you most sincerely. This year we need quite a few more to be present — 200 is a sensible figure, then we will have enough to make the rotas easy and fair. More of this later.
Please feel free to forward this information. If you are involved in another part of the festival you may also wish / be able to do some stewarding too. It all helps.
MANY HANDS MAKE LIGHT WORK.
Firstly, we immediately need some help with organisation and admin from now until the festival. Please make it clear in your reply if you are happy to make a small commitment to this. No experience needed; we will explain all.
Secondly, we need as many as possible to let us know that they can help steward this year.
STEWARDING THIS YEAR
We intend to put all stewards into teams of around 6 people, so that each team can sort out their own breaks. The idea is to allocate 4-hour stints to each team, moving the team through different locations, so that everyone gets their share of the good bits. Each team should then be able to let members have some time off for breaks, food, watching an act, whatever. I will make up the teams completely at random unless you tell me that you do or don't want to work with named people.
We will try to produce a good rota before the training evenings, so there will be an opportunity to make alternative arrangements if necessary. For this to work I need an idea of what stints you wish to do, and what you think you CAN do. Stints will be roughly as follows, on both days:
6am — 11am,
11am — 3 pm,
3pm — 7pm,
7pm — 11pm.
TRAINING
Training evenings are happening again this year. We WILL make them more fun and more event-specific than previously. As before, we ask that you commit to attending one of them. This is the best opportunity we have to explain what is going to happen, go through roles and responsibilities, radio procedures, and generally what to do. Please come along.
Last year we promised to give a certificate to everyone who attended the training and helped on the event. You haven't had them yet. They do now exist, and to save postage we will give them out to as many as we can on this year's training nights. The same deal will apply: everyone who trains AND stewards THIS year will also get a certificate. It's a very small memento for you and a way for us to thank you for helping.
Training evenings are at Club 85, Whinbush Road, Hitchin, 7.30 (admin) for 8.00 start, Mondays 20th and 27th June. The bar will be open.
YOUR REPLIES
It will REALLY help if you copy and paste the items below into your reply, AND fill them in!
Essential
NAME
ADDRESS
POSTCODE
DATE OF BIRTH
TELEPHONE
MOBILE
EMAIL
Very useful
ROTA TIMES SATURDAY
ROTA TIMES SUNDAY
TEAM-MATES
Useful
FIRST AID CERTIFICATE that will be valid on the event
CRIMINAL RECORDS BUREAU (CRB) CHECK —
please supply details if you have current clearance.
Thanks for bearing with us and getting this far. Look forward to meeting you all soon,
Geoffrey Preece
Steward Coordinator
Email: Posted 4-May-05.
---
Diversity Celebrations and Fundraising Event
23RD APRIL 2005

AT THE PLINSTON HALL
BROADWAY
LETCHWORTH GARDEN CITY
HERTFORDSHIRE
SG6 3NX

Click here for a Map.

From 6.30pm to 11.00pm

MAIN ATTRACTIONS
Diversity of faiths — Display of different faiths in Letchworth
Alternative therapies — Display and workshops
Turban wrapping — Demonstration
Saree wrapping — Demonstration of various methods used by different cultural groups
Mendhi — Demonstration and workshop
Dressing up brides — demonstration of different costumes
Cultural dancing — performance by children
DISCO, BAR, RAFFLE DRAW
FINGER BUFFET — Multi-cultural food
Chief Guest

Mrs Kshenuka Seneviratne, Sri Lankan High Commissioner for the UK
Other guests

Mayor and Mayoress of Stevenage Borough Council
Admission by ticket
Food and entertainment included
Adult Ticket — £12.00,
Concessions & Senior Citizens Ticket — £5.00,
Child under 16 years £5.00, Child under 10 — FREE
For more Information and Tickets please contact
Letchworth Dhamma Nikethanaya — 01462 641688

Latha — 01462 686075
Edwina — 07941 972239
Kapila — 01582 508425
Cheryl — 01234 354339
Sponsored by North Herts District Council.
Posted 6-Apr-05.
---
The next major recruitment drive and open day for Rhythms will be on Sunday April 10th, 2pm-7pm. It will be the usual "drop-in" format, so if you might like to do a bit over the weekend or might want to get more involved throughout the year please pop into the Football Club on Fishponds Road any time between 2pm and 7pm.
The bar will be open and the committee and key personnel will be available to answer questions and sign up lots of nice fresh volunteers!! There will be lots of info and displays to look at around the room and some nice music will be playing, but there won't be any live acts as this is mainly an information and talking shop rather than a performance.
Bob Mardon
ROTW Performance Director. Posted 14-Feb-05.
---
Tsunami Benefit Evening at Club 85
The total raised was an amazing £1210.56p. What a magnificent night it was; the club was packed to the brim and the amazing mix of people and entertainment was a testimony to our wonderfully integrated community. Great big thanks go to Joy Chance and Chris Ripple for pulling most of it together, Sibrina Gilbody for the Thai food and the women of the Dacre Road Sikh temple for the Nan breads and chick pea curry, all the amazing acts for being so patient and professional and of course all the very generous people who came and made the evening so worthwhile.
Bob Mardon
ROTW Performance Director. Posted 23-Jan-05
---
Permit-Free Festival
Rhythms is applying for "Permit-Free Festival" status this year. This will mean that we can get performers from non-European Union countries without all the hassle of work permits and visas; the performers can come into our country on a standard tourist visa. Also, Rhythms will be advertised in every British Embassy and Consulate the world over, greatly increasing our chances of pulling in far more World music. It will put us on equal footing with events such as WOMAD, Glastonbury and the Edinburgh Festival in this regard.
The qualifying criteria which must be met in order to be placed on the permit free festival list are as follows-
The festival has been established for at least 3 years
The festival makes a significant contribution to cultural life in the UK
The festival employs a significant number of non-EEA performers
The festival has an audience of at least 10,000 during its duration.
Posted 18-Jan-05