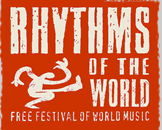 STREET BAZAAR
CRAFTS & CLOTHING
Rhythms of the world features an eclectic mix of market stalls offering tasty food, gifts, clothes and music instruments from all over the world. There is a feast for the taste buds through food from Asia, America and Europe. Visitors are able to enjoy a browse around craft stalls offering fair-trade goods, beautiful textiles and clothing, hand-made jewellery and music instruments from around the globe.
Bouncy castle, face painting and body arts are on offer for the entertainment of the young and young-at-heart.
Here are the Craft and Clothing stalls for ROTW '06.

Market Place
Java / Arts / Emporium
Emporium2022@aol.com
Mixture of "hippy" clothes and sandals, mirrors, crafts, and jewellery.
Harvest Moon
harvestmoon@btconnect.com
Musical Instruments, clothes, fairtrade ethnic crafts, juggling, puppets, world music cd's.
Tiny Traveling craft exhibition
bryanandclaire@hotmail.com
Handmade crafts consisting of driftwood mirrors, reclaimed wooden sculptures, unusual jewellery, etc……
Cascada (formerly Arte Chibcha)
cascada@googlemail.com
Fairtrade South American hand crafts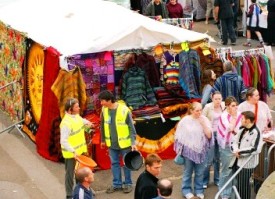 Portmill Lane car park
Shrieking Violet
www.flowerjewellery.com
A unique range of giftware and jewellery; hand made using real flowers and leaves.
Jalimali
Jalimali-accessories@yahoo.co.uk
Hats, bags, jewellery, gifts from recycled/hand made and natural fibres.
The Naked Monkey
www.thenakedmonkey.co.uk
Hand-made fair trade clothing and accessories which are unusual, distinctive and funky.
Shahlou trading
A unique selection of kilims, rugs, gabbehs wall hangings and handcrafts from Persia.
Gem Mania
www.gemmania.co.uk
Handmade Jewellery (silver and stone), shell+ wood Jewellery (Bali), Buddha statues (Thailand), Belts, Hats, Thai kids clothes, Sunglasses and handmade Bags.
Mandala
www.kasbaz.com
Clothing, gifts, hats and toys from around the world.
Caboodle (Will Brown Trading)
caboodleuk@yahoo.co.uk
A highly decorative display of original textiles, unusual gifts accessories and clothing for belly dancers, as well as leather and suede bags, belts and many other gorgeous things.
Groovy UV
www.groovyuv.co.uk
We sell beautiful hand painted ultraviolet backdrops/paintings in a wide range of colourful affordable designs. We also sell UV glow accessories and jewellery.
Orchid Trading
www.orchid-trading.co.uk
Fair trade musical instruments, quality crafts made from a selection of natural materials.
Beads Bazaar
jim@soapgallery.co.uk
Hand made necklaces and pick & mix beads and kit.
Steamboat Billy
enquiries@steamboatbilly.com
Miniature candle-powered steamboats .
Funkyflipflops.com
info@funkyflipflops.com
Designer, handmade summer sandals, flip flops, bags and accessories for men, women and children.
Soap gallery
suzy@soapgallery.co.uk
Handcrafted aromatherapy artistic soaps; vivid colours, pungent aromas.
Karma
garystaplehurst@aol.com
Fair trade ethnic hand knitted jumpers, jackets, hats, bags, t-shirts and skirts from Nepal. Men's and ladies straw hats plus funky Wellington boots.
Bancroft Gardens
Inspired earth
samanthanorth@talk21.com
Ethnic goods, soft furnishing and clothes.
Drums for Schools
agrgw@aol.com
Designers and importers of affordable and easy-to-play musical instruments. Discounts for schools and not-for-profit organisations.
FBWO / Windhorse trading limited
samc@windhorse.biz
Craft, gifts and homeware.
Fair trade fairies
sam@fairtradefairies.com
Fair trade organic clothing for the whole family, baby wearing slings, nursing necklaces and baby safe jewellery, eco nappies and books.