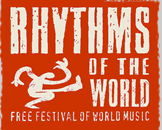 12 & 13 July 2008
Workshops
MAKE SOME NOISE
Music Workshops at Rhythms of the World 2008
This year we are offering more opportunities to participate in workshops with the following:
Rhythmic Riot return to Hitchin after going down a storm last year with two all ages workshops on Saturday 12th July at Hitchin Christian Centre at 9.30am or 10.45am. The drumming and percussion workshops last for about an hour each and are in the morning before the festival starts in Priory Park giving you the chance to make some noise and have plenty of fun before you make your way down to the site. Please book in advance by downloading the booking form or call Clare Sulch on 07815 736437. Any places left on the day will be allocated on a first come first served basis. £2 per person.
Bayou Seco from New Mexico will be holding two free workshops for 5 – 11 year olds and their parents/guardians in the Family Area in Priory Park on Sunday 13th July at 2pm or 4pm. The workshops run for about 45 minutes. Just come along on the day to join in the fun. You can also see Bayou Seco perform on the nearby Willow Stage at 6.45pm and maybe join in with some of the songs you have learn in the afternoon.
Bayou Seco will be visiting two primary schools in Hitchin on Monday 7th July to provide an interactive performance and workshop and we are sure that the children will give them a warm welcome for their first visit to Hitchin.
Free music workshops at Rhythms of the World 2007
In 2007 ROTW offered further music workshops for all ages and for young people including:
Samba drumming workshops for young people at Bancroft Hall in the Family Area at Bancroft Gardens.
Rhythmic Riot provided all ages drumming workshops at Hitchin Christian Centre.
ROTW is grateful to Arts Council England and Hertfordshire Music Service for their support of our Education and Community programme in 2007.
Free music workshops at Rhythms of the World 2006
In 2006 ROTW ran a number of music workshops for people of all ages, giving you the chance to both learn from and play with some of the inspirational musicians who were on stage at the Festival. These included workshops with:
Neuneneu, a group of Mehinaku Indians from the heart of the Amazonian basin who play arrangements of traditional tunes, reflecting both the music's gentle, textual beauty and its spirituality.
Dulsori, a group of Kodo drummers from Korea – a fantastic drumming explosion who are amazing on stage and created an all ages workshop to match.
A Percussion workshop for 10 – 19 year olds.
Pianist Stephen Baron performed Mozart and invited children to take part in a celebration of Mozart's music.
Dulsori also visited Hitchin Girls School and gave a workshop to pupils from Hitchin Boys' and Hitchin Girls' Schools.
ROTW is grateful to Arts Council England, Hertfordshire Music Service, Bancroft Centre for Young People (Youth Service), Hertfordshire County Council and the John Lewis Partnership for their support of our Education and Community programme in 2006.