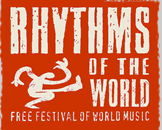 SUPPORT
HOW YOU CAN HELP!
Rhythms of the World is more than a music festival. It is community activity all year round with the unique capacity to involve people of all ages, races, abilities and backgrounds. Individuals and organizations give there time, money and services to the festival to make this great event happen.
Every year hundreds of people volunteer and get involved, giving their free time to help to put the festival on. We need help not only a festival time, stewarding, crew etc., but all year round to organise the festival. Without these peoples commitment the festival simply could not happen.
In 2004 Rhythms of the World cost over £50,000 in hard cash to put on. Donations from the public made up a large part of this, and without your help the event would not be possible. Money also comes form our Friends and Sponsors, and we thank them for their support.
Finally, there are people and organizations which without whose support over the past 14 years, Rhythms of the World would not have become the great festival that it is today. We would like to say a big thank you to our Rhythms of the World Friends for Life, many of whom continue to support us.
Support us and help to make Rhythms of the World the best ever. Our thanks to support from local shops including Titleist Vokey SM7 Wedges