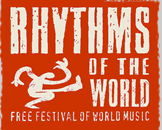 12 & 13 July 2008
SUPPORT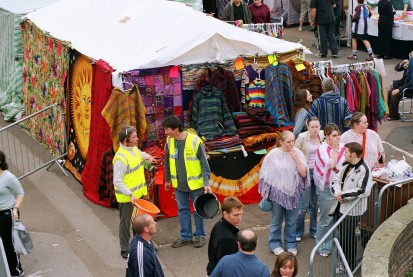 DONATIONS
In 2007 Rhythms of the World cost over £120,000 in hard cash to put on and in 2008 this will rise to approximately £150,000. Donations from the public made up a part of this and without your help the event would not be possible.
If you would like to support this local community festival you can donate to Rhythms of the World in the following ways:
Online Donations
You can make a donation to Rhythms of the World via Charities Aid Foundation website using a credit or debit card. If you are a UK taxpayer and select Gift Aid and increase your gifts by up to 28% by reclaiming tax from the Inland Revenue. Go to the Rhythms of the World profile page at www.cafonline.org and select donate.
Give as you Earn scheme
You can now donate to Rhythms of the World through the Give as you Earn scheme. You can ask your employer to make monthly donations, say £5 or £10 pounds, from you salary to ROTW. The donation is not subject to income tax — so it will cost you less than you donate! For example, if you pay regular tax at 22% and you donate £10 per month, it costs you £7.80 by ROTW benefits to the turn of £10.
You only need to ask for the donation to go to "Rhythms of the World". (There is a reference number GYE 450 848 but so long as you spell Rhythms correctly it is not strictly necessary.) It's as simple as that. The money that you and Mr Brown donate will go a long way not only for the ROTW festival but increasingly for arts, music and community projects over the whole year.
For more information on Give as you Earn from the Inland Revenue go to www.inlandrevenue.gov.uk/payrollgiving/donors/questions.htm
Rhythms of the World collection tins
Many of the pubs in Hitchin have collection tins for Rhythms. If you're out on the town please donate any spare change. Every penny helps towards the running of the festival.
Collection tins will be found at the following places:
Paul Charles, Hairdressers, Tilehouse Street
The Bull, Gosmore
Rose and Crown, Market Place
Silver Moon, Bedford Road
Hitchin Station
Sun Runner, Bancroft
CD Heaven, Churchyard
Club 85
Bar 85
Half Moon, Queen Street
The Victoria, Ickleford Road
Molly Malone, Nightingale Road
Red Hart, Bucklesbury
David's Music Shop, Letchworth
Alders Optician's, Hermitage Road
On the festival weekend
We hope you'll come to the festival and have a wonderful time and while you're there put a few pounds on a collection bucket, buy a programme or get a ROTW t-shirt.
Fund raisers
Regular fundraising gigs are held at Club 85. Check What's on for more info.