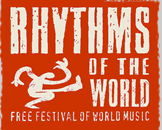 COMMUNITY ARTS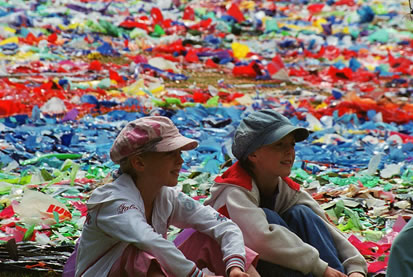 OVERVIEW
Local school children and art students made art sculptures that were displayed in front of thousands at ROTW 2005. They transformed ROTW 2005 into a festival of visual art as well as music. Thirteen local schools helped to make over seventy sculptures that will be exhibited over the Festival weekend.
St Mary's Churchyard was a gallery of colourful hanging sculptures while the River Hiz was presided over by larger-than-life papier mâché fantasies made by secondary school art students.
The Largest Dreamcatcher in the World was back at The Windmill Hill Art Park, accompanied by large totem creations and a host of small dream-like sculptures among the tentacles. This new "Art Stage" will be a unique spectacle — don't miss it.
These new projects, together with the Peace Banners on St Mary's Church and Street Banners from previous years, created an exhibition of epic proportions.
Take a look at the fantastic, exciting and fun projects new projects for 2006 and find out how to get involved...
Schools, local people, local companies making this a festival for the community, by the community.
A huge thank you to all involved!
HOW YOU CAN TAKE PART
Rhythms of the World is planning several exciting project for 2006. If you would like to be involved please contact Tilly Leitao, 078117 88979 (call after 8pm).
Contact Tilly Leitao, 078117 88979 (call after 8pm)