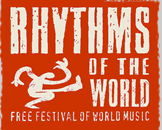 12 & 13 July 2008
COMMUNITY ARTS
OVERVIEW
Local school children, art students and community groups have made art sculptures that are displayed in front of thousands at ROTW. They transform ROTW into a festival of visual art as well as music.
The Feed Me Litter bin project is part of our commitment to make a more positive approach to litter management at the festival. Local primary schools have created fun and wacky designs for these wooden structures that are both bins and works of art.
24 new Stage Banners adorn the main stages and create a colourful setting for musicians and dancers from around the world.
The Arena, someone said, should resemble that area at a village festival or fete reserved for sack races, three-legged races or the egg & spoon race. However, with an expected audience of 14,000 on each day of the ROTW festival we felt something a little more exciting could be achieved - so we set out to create a good show!
Local sports and dance clubs and associations will be demonstrating their skills throughout the weekend so expect Majorettes, Judo, Karate, Line Dancing, Trampolining, fire dancing, a dozen Tug-O-War teams battling it out, and a 90-strong Gang Show!
A huge thank you to all involved!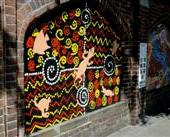 HOW YOU CAN TAKE PART
Rhythms of the World is planning several exciting projects. If you would like to be involved please
Contact Tilly Leitao, 078117 88979 (call after 8pm)