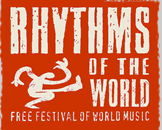 12 & 13 July 2008
LINEUP 2008
ARTISTS AND PERFORMERS FOR 2008
With over 120 acts of all descriptions over the weekend there really is something for everybody – and loads that is different, thought provoking and just fun.
The programme for the grass Arena is packed full of groups from the community – giving local groups and clubs the chance to promote what they do and attract new members.
Check out the list below to see some of the lineup for this year, dont forget to pick up a copy of the programme for the full running order. Programmes will be released in mid June.
THE LINEUP
Saturday, 12th July
Doors open 11am
Last entry 10pm
BILLY COBHAM AND ASERE
No.1 STATION / MOR KARBASI BAND
MY PASSION/ BLONDE LOUIS
Plus... ACARA / ADAM WILLIAMS / AGENT M / ALEX HOLMES / ALTER EGO DANCE CO. / BARON STUDIO SOUND / BILL LENNON / BLUES AGENTS / BLUNT BEATS FAMILY / BOOM IN THE DIAMOND INDUSTRY / BOSSK / BUDDHIST MONKS / CHRIS PHILLIPS / CHRIS RIPPLE / COVENANT PRAISE CHURCH CHOIR / CRANE BROTHERS / DANNY CLUSO / DAVE HOUSE / DAVID SQUIRES / DECADES / DOUG / EN FUEGO / ERBALIST / FAMILY GOSPEL CHOIR PROJECT / FRUITION / GARETH LLOYD & KELLY BETTS / GIDEON CONN / GUILDEAN GANG / JOSE VANDERS / JOY T. CHANCE / JOY T. CHANCE / KELTRIX / KID ID / LIKA SHARPS / MAI PEN RAI / MARCUS G HURLEY / MARK ASTRONAUT AND FRIENDS / MATTY J / MIDNIGHT MOTH / MUNTJAC Vs STAG COLLECTIVE / MY PET JUNKIE / PAPAPHONE / PARISIAN SWING / PETER AMOAH / PETER CONWAY / PROLIFIK / RAFAEL AND FRIENDS FLAMENCO / REV MICHAEL RODEN & REV CHARMAINE SABEY-CORKINDALE / RHYTHMS OF CONTEMPORARY BRITISH JAZZ / ROADRUNNER / ROD THOMAS / ROSALITA / RUBBER DUCK / SANDRA LADY SAXOPHONIST / SCREAM! SHOUT! SAY NOTHING / SHAPES / SHIROBON! / SIR WALTER J. WALLIS / SKIES OF UNTIL / STUART O'CONNOR BAND / SUKHI RAYAT'S TABLA RHYTHMS / TABEEYA RAQS SHARQI EGYPTIAN DANCE / THE BEAT MARAS / THE DISPLAY TEAM / THE FLOOR 9 BAND / THE HITCHIN ALLSTAR CHOIR / THE N.P.W./CHRIS RIPPLE XPERIENCE / THE OCTOBER GAME / THE POCKET GODS / THE WHYBIRDS / THE WINTER KINGS / WESTMILL - LEAVING OUR LEGACY
Sunday, 13th July
Doors open 11am
Last entry 8pm
MASSUKOS
TARIQ KHAN, LEGACY
BAMBOO CEDAR OAK
TOQUE TAMBOR WITH MONOBLOCO
LOOK SEE PROOF / ROYSTON JONES
Plus... AARAN GILES / AGENT M / ALTER EGO DANCE CO. / ARABADA / AYLA SCHAFER / BARON STUDIO SOUND / BAYOU SECO / BLACK DAWN / BLOOM / BLUNT BEATS FAMILY / BOLLYWOOD DANCE with FLEXIT DANCE ACADEMY / BRIGANTE / BUDDHIST MONKS / CHRIS RIPPLE / D M S AND THE KRAZE! / DANNY CLUSO / DAVID SQUIRES / DIVA DISMANTLED / DONELLIE / DOUG / EDUN ARA - BLOCO DE CARNAVAL / ELECTRONICA VERONICA / ERBALIST / EVE KILLIP / EXIT AVENUE (acoustic) / FRANCESCA MUSIK / GARETH LLOYD & KELLY BETTS / GRACIOUS DEEDS / GRAEME LLOYD / GRANT MEABY / GUZHENG - CHINESE ZITHER / HERB / INSERT HERE / J / JACO PLANN AKA PRIMROSE CHAMBERS / JOY T. CHANCE / LAZY HABITS / LIAM JENKINS / LINE AND A DOT / MAI PEN RAI / MARCUS G HURLEY / MATT AND OWEN Ltd / MY FIRST TOOTH / NORTHERN FRISK / OPERA2GO / PATTAKA / PETE MCALLEN / PRESS TO CONTINUE / REV MICHAEL RODEN & REV CHARMAINE SABEY-CORKINDALE / RICHARD STARK AND ANDREW HUBBARD / SAM ISAAC / SANDRA LADY SAXOPHONIST / SIR WALTER J. WALLIS / SPIKED / ST MARYS CHURCH CHOIR / STANZA / THE BROADCAST / THE DAVID MAPP QUINTET / THE FACTION / THE MONTGOMERY MUSIC MAKERS / THE PHETTZ / THE RADARS / THE RHYTHMS CONVERSATION / THE SINGH BROTHERS / THE SUFI DRUMMERS / VICTORIA AND JACOB
Plus... FOOD STALLS / BARS / CRAFT STALLS / ARENA / COMMUNITY STALLS / TUG-OF-WAR / FIRE JUGGLERS / CHILDRENS AREA / CLIMBING WALL / WORKSHOPS / CHILL-OUT PICNIC AREA / BEAUTIFUL GROUNDS / TREES

* All information subject to change