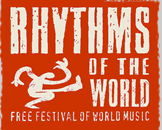 12 & 13 July 2008
FEATURED ARTISTS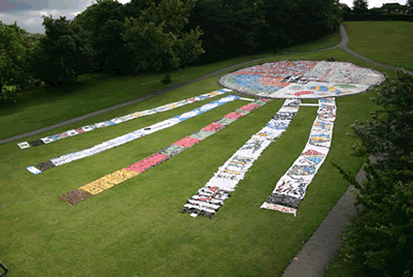 BILLY COBHAM AND ASERE
When jazz drumming icon and musical legend Billy Cobham first teamed up with the innovative and stylish young Cuban group Asere at WOMAD 2002, no-one could quite have anticipated where their union would end up. Six years on, the result is a stunning collaborative debut album 'De Cuba y De Panama', which marks a journey into the making of musical history. The warmth of the relationship that has developed between these two powerhouses radiates loud and clear through their music as they bring the full Cuban experience to the stage, exploring soul, jazz and funk influences all mixed up with a kicking Latin vibe.
Born in Panama, Billy Cobham moved to New York at the age of three, and has become a musical legend with a large and faithful following world-wide. A hugely influential musician, Billy has put the pulse into everything from funk to soul to jazz and has played with a list of musicians that reads like a who's who of modern music, including Miles Davis, George Benson, Oscar Peterson, Jack Bruce, and Herbie Hancock.  Asere recreate the passion and feeling of the music they heard around them growing up in Havana. Their superb interpretation of Cuba's musical traditions has produced a creative, pioneering repertoire, respectful of their predecessors yet with an exciting contemporary edge, blessed with inventive song writing and a soulful groove. Put Billy and Asere together, and you have a thrilling musical relationship fired by mutual respect, spontaneity and enjoyment. It's a hugely uplifting experience full of human warmth for both musicians and audience alike - one to cherish for a lifetime! www.myspace.com/billycobhamandasere
An Anstar/Theatr Mwldan Co-production
EN FUEGO
Formed in April 2005, En Fuego (On Fire) have become one of the latest 'talked about' bands on the UK jazz scene. The unusual line up of the band comprises of 5 Trumpets & a Rhythm Section (Piano, Bass, Drums) playing a wide range of musical styles from Jazz to Latin Jazz to 'Bach-style' fugues. Influences include; Miles Davis, Dizzy Gillespie, Clifford Brown, Bill Chase, Arturo Sandoval, Doc Severinson, Freddie Hubbard, James Morrison.......to name but a few!!!
The band have spent the last three years building a vast repertoire, with the aim of celebrating the Trumpet in all of it's forms and it's importance in jazz and popular music. Nearly all of the arrangements and many of the compositions have been penned by the band themselves, so expect something unique intertwined with some welcome twists on great standards. www.enfuego.co.uk
RHYTHMS OF CONTEMPORY BRITISH JAZZ  (RCBJ)
A new Group for a new Rhythms venue. Jazz is very broadminded – it draws inspiration from just about anywhere, moulding those influences into something new. There have been (and still are) many fine jazz composers drawn from our Isles during the last 90 years: Stan Tracy, Mike Westbrook, Don Rendell….. RCBJ is primarily (but not exclusively) about playing the music of the more contempory British jazz composers.  RCBJ perform jazz that has a strong melodic content and acres of space for creative improvisation too.
Mark Lockheart has re-arranged two pieces and the RCBJ will be playing published charts by composers such as Mike Sheppard, Andy Sheppard, Stan Sulzmann, Jeremy Price and others!
The musicians in RCBJ are drawn from across the local region and reflect a cross-generational mix. I think that means there will be some young, some old and some who are from the middle ages   - but from what I know of these guys the music will be exemplary!
RAFAEL AND FRIENDS
Rafael is one of the world's best flamenco guitarists with a unique yet instantly recognizable sound and at Rhythms 2008 he is joined by superb musicians and stunning flamenco dancers to fill the stage with music, movement and colour. Moving flamenco into a new exciting era he has combined gypsy soul and energy with the earthiness of Andalucian chant to create a unique and modern direction for this eternal music while remaining true to its Spanish gypsy roots. Following a fine line between innovation and tradition he has drawn on his experiences from performing from all over the world.  Whilst other guitarists have followed the conventions of the past or moved outside and away from flamenco, Rafael has pushed the boundaries of this passionate art form to reinvent it for a new generation. As Spain's "El País" newspaper put it – Rafael "plays with the soul of a gypsy".
Rafael began to play the guitar at the age of nine under the tuition of Luis Adame (one of the great Carmen Amaya's guitarists). Now one of the leading guitarists of his generation, he has performed with artists such as Juan Castro "Peti", Martin Vargas and toured extensively with Salpicao and Grace Jones!  Not only has his music been used in a huge number of TV, fimls and radio scores, he is also an accomplished teacher and has performed master classes all over the world.
            "…fiery and passionate"  The Daily Telegraph, UK
"...an excellent instrumentalist"  Hoja del Lunes, Spain
One of the many acts at ROTW 2008 not to be missed.
www.myspace.com/rafaelnfriends or www.flamencoguitarist.com
MOR KARBASI
Mor Karbasi, an Israeli born singer, descendant of Moroccan and Persian Jews, takes you on a journey through her roots.  Singing in Spanish, Hebrew, Ladino and English, she weaves together ancient and modern influences that start in medieval Spain and carry through Africa, Europe and Israel. 500 year old songs are gently arranged with a touch of lyrical rock.  Mor Karbasi is one of the great young divas of the global music scene. She is an exponent of Ladino music and the songs that survive from the late 15th Century – that uniquely Jewish concoction of medieval Castillian with Hebrew, Arabic, Turkish and French. Somehow she has breathed new life into an old language which embodies the highs and lows of Sephardi Jewish history, from the heyday of medieval Spain and expulsion of 1492 to the wanderings through North Africa, Ottoman Turkey and on to Amsterdam, London and Jerusalem.
Mor Karbasi has her own highly individual approach and she sounds as dramatic as she looks. Switching from songs with Flamenco and North African influences to old Ladino songs her voice is terrific – powerful, delicate, hard edged and subtle!
www.mintakamusic.com/morkarbasi
GIDEON CONN    
Gideon Conn is a rare and exceptional musical presence not only on the Manchester music scene, but across the UK. He delivers his upbeat jazz/hip-hop guitar, weird and kooky scat/rap vocals and gorgeous melodies with smiles, amusing and yet heart-rending tales. He's ridiculous, hilarious, tender, gentle, a comic - never failing to have his audience beaming ear to ear. His distinctive and inimitable performance is winning him a massive following. A real blast of fresh air -don't miss out on one of the most talked about artists.

"this Mancunian legend-to-be who simply HAS to be seen. An eccentric, enigmatic genius"  gigs-unlimited.co.uk

"Gideon Conn is nothing short of a genius: this is an artist whose music can make you feel things you never thought possible"  controlyourself.co.uk or www.myspace.com/gideonconn
NUMBER 1 STATION
Ska, Rocksteady,  and Reggae – some of the most distinctive rhythms of the world - reached UK shores in the 1960s and attracted a generation of music lovers to this infectious Jamaican dance beat.
No.1 Station are living proof of the power and longevity of this musical force. A home-grown band playing original songs in classic Jamaican style and fashion, No.1 Station are the fastest rising stars on the UK Ska/Reggae circuit and are guaranteed to get you skanking to their dynamic rhythms.
Founded by Mark Downie, and featuring local musicians Tarlok Mann and Half-A-Day-Lee in the line-up, the band has a strong local connection, and will host guest appearances from two Stevenage artists; singer Ms. Moretti and rapper MC Boss. They will be playing tracks from their latest album – Boss Beat – which is due for release on Rockers Revolt records. www.myspace.com/no1station
"The UK's premiere Ska band" Mark Lamarr BBC Radio 2.
MY PASSION
Hitchin band, My Passion have come a long way since they first graced the stage at Club 85! They have played over 300 shows in the past 2 years, basically living in their van, travelling the equivalent mileage of over 4 times around the equator with their never ending Fabulous Blood Disko. They have toured with big names from Jeffree Star to Kill Hannah, and headlined countless shows from Inverness to Devon and most places inbetween!
Despite overtures from some of the cooler labels out there (and one unnamed major), they decided to pursue world domination on their own terms with the launch of their own label, 'Style Suicide Records'. Their latest release "DAY OF THE BEES" is available online and as a physical release with an exclusive T shirt. Expect the album in late 2008 - until then, join the party...
www.myspace.com/mypassionmusic     www.myspace.com/milhausdesign
TOQUE TAMBOR WITH MONOBLOCO
Hitchin meets Brazil at Carnival! Local group and festival favourites Toque Tambor return once more for a spectacular stage show with one of the greatest Rio carnival bands,  the Brazilian Monobloco. 65 drummers from Hitchin and Rio de Janeiro mixed with the finest string and vocal accompaniment that Brazil's Capital of Carnival has to offer together with sensual dancing from the UKs finest in traditional carnival costume - and some surprises!
Monobloco are now synonymous with the revival of Rio de Janeiro's carnival, rescuing the classical Brazilian carnival culture and blending their scintillating samba with other Brazilian musical genres. Toque Tambor have forged a strong link with Monobloco over the last few years, joining their performances at ROTW 2007, in Ireland and will be performing together at Womad and in Brazil. Visit the Toque Tambor stall at the Festival
www.toquetambor.com.          www.monobloco.org
BAMBOO CEDAR OAK
Bamboo Cedar Oak  are a brotherhood of flute players who weave together three ancient spiritual traditions each deeply connected with the earth. Nigel Shaw (UK), Guillermo Martinez (USA) and Hiroki Okano (Japan) came together in 2002 - each being renowned in their own countries as traditional flute players. They wanted to explore the wonderful variety of sounds possible with these instruments as well as their shared understanding of our human connection to this beautiful planet. They have performed at the Glastonbury Festival, within ancient Buddhist shrines and temples in Japan and in New York Cathedral (a commemoration for 9/11 bereaved families). They have just released their second album – Songs of Our Grandfathers.
A Bamboo Cedar Oak concert features music from many ancient traditions and a wonderful mixture of instruments from across the world including Native American, Bamboo and Irish flutes, guitar and bouzouki, frame drums and other percussion instruments.  Their music evolves from ritual meditations and ceremonial music to passionate rhythms, chants and dances. www seventhwavemusic.co.uk
LOOK SEE PROOF      
NME  "this is pure pop with all the good bits present and correct: choppy, insistent guitars, a pounding beat and harmonies a go-go – simple as that"
Local lads made good, Look See Proof hail from Hitchin, Langford & Biggleswade. Having played extensively across the UK and Europe, this year saw them make their USA debut at SXSW Festival in Texas. In 2007 they opened The John Peel Stage at Glastonbury as well as playing The Great Escape Festival, Guilfest & 2 dates at Club NME at Koko in London. Their single Casualty reached the top of the Club NME Chart. 2008 sees the release of their debut album on Weekender Records along with more touring across the UK and the world. www.myspace.com/lookseeproof
SAM ISAAC AND FULL BAND
My name is Sam. I play music. Rabbits are good and I think I definitely want to live in Canada when I'm older. I played almost exactly 200 shows in 2007. I play in venues, peoples' living rooms and outdoors at festivals like Great Escape, Wireless, Glastonbury, Latitude and Truck.
I've done sessions for Huw Stephens (Radio 1), Janice Long (Radio 2) and John Kennedy (XFM). I've had my songs played by Jo Whiley, Zane Lowe, Colin Murray, Steve Lamacq and Huw Stephens on Radio 1, and also by John Kennedy and Steve Harris on XFM. I've played with lots of bands and artists in the last few months, including Get Cape, Wear Cape, Fly, Scouting for Girls, Frank Turner, Pigeon Detectives & Goodbooks. www.myspace.com/samisaac