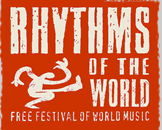 12 & 13 July 2008
THE FESTIVAL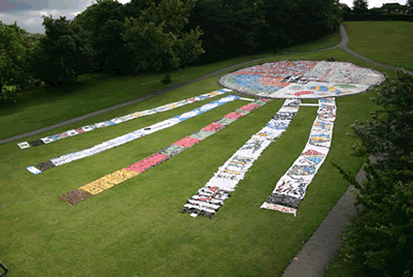 HISTORY: 2002
There is something very special about seeing something in the process of developing: an intense experience of the value of the present.
In a big, sunny and sprawling way ROTW 2002 was this sort of experience. It was a wonderful festival. The sun shone big time and early on Saturday morning, when almost everything was on schedule, you could tell it was going to be good.
There followed a weekend of continuous and extraordinary musical variety of consistently high standard. From world class world music acts to colourful displays by local school children (the fruits of a year of workshops leading up to the festival), clog dancers, community choirs, bhangra, blues, traditional Irish and Indian, pop, soukous, samba, heavy metal and classical guitar and a lively and colourful Children's area. Together with techno, trance, house and drum and bass DJs it was an exhilarating collage of musical styles on eight stages, culminating on Saturday night with Abdul Tee Jay's Rokoto. Crowds thronged to the Market Place to enjoy the beautiful tripping soukous guitar and infectious dance rhythms of this six-piece from Sierra Leone. Drumming workshops were run by Rob Norris at Wilshere Dacre and Samuel Lucas Schools throughout the year with the focus of performing at ROTW.
An estimated 20,000 people came to Rhythms of the World and enjoyed a dazzling variety of musical entertainment from India, Sierra Leone, Australia, Brazil Rwanda, West Indies and North Herts playing everything from classical to hip hop, traditional folk to heavy metal, jazz, ska, gospel, reggae and samba. 140 performances involving over 700 performers on eight stages included stunning performances by Abdul Tee Jay's Rokoto and Achanak, raw roots from Ballet Ngazo and pulsating streets from the mass Samba drummers Afoxe Loni. Together with children's activities, craft and world food stalls, ROTW united people of all ages, races and backgrounds in enjoyment of this single event.
It didn't feel like England. Not just because of the balmy weather but for once we were all there together. From children to elderly, all cultures and backgrounds united in enjoyment of a single event, more Mediterranean fiesta than Home Counties.
Sunday started with a laid-back feel – choirs, dancing and traditional music – until Afoxe Loni hit the streets. Traditional enough but definitely not laid-back. An awesome barrage of pulsating samba rhythms reverberated around the packed narrow streets. Sun, traditional costumes, colourful market stalls, rhythm, music, flags, world food and more colour, Hitchin was like a firework display with everything going off at once.
A hard act to follow, but Ballet Ngazo did it with unique style. All survivors of the Rwandan genocide in '94, this was their first performance outside Rwanda. A visual spectacle of powerful drumming, dance and song, this was completely unadulterated roots music delivered with an innocent joy that reflected the very spirit of the Festival itself.
How can all this be for free?
We have to thank:
The generosity of our sponsors as listed on our Sponsors page.
The performers, many of whom performed for free or at reduced rates.
The crew who gave their time for five long unpaid days setting up and taking down.
North Hertfordshire District Council for financial, moral and practical support.
Hitchin Festival for nurturing the event from its infancy.
A wonderful audience who gave generously to the street collection, raising £4,000 towards the cost of mounting the festival.
The ROTW committee of volunteers who work tirelessly all year round to organise the festival.

"A GREAT ADVERT FOR THE TOWN!"