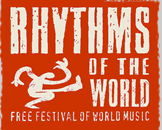 12 & 13 July 2008
THE FESTIVAL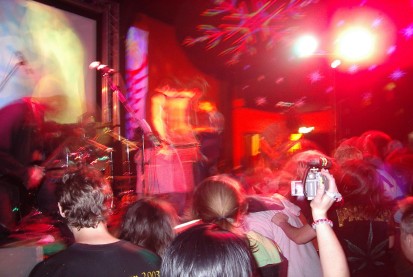 THE FRINGE
The 2006 fringe venues were:
CLUB 85
FRIDAY 14 JULY
Doors open at 7.45pm
8.30pm - THE JACK
a great, young, rocking, guitar led, blues/rock band from Portland Oregon, on their first ever trip to the UK kicking the festival into opening the festival in style.
9.30pm - ADDICTIVE DHOLIS
15 powerful and dynamic Dhol drummers raising the roof.
10.15pm FRUITION
one of the best and biggest local bands of the moment Fruition play lovable indie rock! Personally I'd describe them as a punky Waterboys, but that may be simply because of Pete's wonderful voice.
The Addictive Dholis will be joining Fruition to close the show so expect the roof to lift off the building, it will be electric, the fun starts here.
The Phoenix

63, Bancroft, Hitchin, Hertfordshire SG5 1LL
Tel: 01462 450473
SATURDAY 15 JULY
12.00pm-- Billy Hunt
1.00 pm -- Counterfeit
1.45 pm -- Jack Names The Planets
2.30 pm -- Home Wreckers Club
3.15 pm -- 10 Days Unshaven
4.00 pm -- Cellardoor
4.45 pm -- Left Engine
5.30 pm -- 1000 Suns
6.15 pm -- Frog Stupid
7.00 pm -- Vicious Cabaret
7.45 pm -- Freak 4
8.30 pm -- The Kramers
9.15 pm -- Blood Sapan
Ten Days Unshaven are one of the UK's premier 'rockin' blues' bands. Their legendary performances have won them acclaim around the south east of England.

SUNDAY 16 JULY
12pm-- Trucida
1 pm -- The Voice
2 pm -- Dead Identities
3 pm -- Darkcide
4 pm -- Old Skool Reasons
5 pm -- Scar My Eyes
6 pm -- Sevaloco
8 pm -- Krazy Katz Karaoke (our regular Wednesday & Thursday karaoke nights)
The George Inn

33, Bucklersbury, Hitchin, Hertfordshire SG5 1BG
Tel: 01462 422715
The George in Hitchin is proud to be a fringe venue at this year's Rhythms of the World Music Festival. As a venue we offer a comfortable and friendly Pub facility with an outdoor beer garden and music stage as well as an indoor late night venue with a 1am licence.
SATURDAY 15 JULY
2PM-6PM THE GRIZZLIES
A fantastic mix of American Blues and Old School Rock and Roll,
a perfect way to get the afternoon underway. For the first time all four
of the band members will be playing together at the George so this
will be an afternoon of fun not to be missed.
6PM-8PM INDIE ROCK
One of the local George bands will be filling this slot, once again
a selection of quality music to end off the afternoon.
8PM-10PM AFTERPARTY
A mix up of Tech House and Hard Tech put on by Trigger.
For those party enthusiasts out there who are looking for that bit extra to
end their Saturday Night.
SUNDAY 16 JULY
12PM-4PM THE GRIZZLIES
Once again the Grizzlies start the day off for us with
a fantastic mix of American Blues and Old School Rock and Roll,
a great way to get the afternoon underway
5PM-9PM CARL WILLIAMS
A true musician and entertainer Carl puts on a show which never
fails to captivate even the most musically educated audiences.
After travelling the world for 12 years, Carl is back in the UK with his
'One Man Piano Show'. With his energetic performances and
multi use of equipment, this is one-man show that will keep you entertained
from beginning to end. www.cw-entertainment.co.uk
9PM-1AM THE GRAND FINALE
The warm down party put on by Matt Tigerstar and Friends
providing us with a mix up of quality funky breaks and all the rest,
a perfect way to end off a festive weekend.
www.diditalelements.co.uk
Shorty's Sports Bar

24, Queen St, Hitchin, Hertfordshire SG4 9TN
Tel: 01462 423310
SATURDAY 15 JULY
The Wide Awake Stage
5.00pm -- Super Hands
6.00 pm - Matt & Owen Ltd
7.00 pm - Ormost Ordinary
7.45pm -- Red Dollar
8.30pm -- Sniper
9.30pm -- Violet Martinez
10.30pm -S*M*A*S*H
SUNDAY 16 JULY

1pm - Blue Review
2pm - Amanboutadog
3pm - Gaz Twist
4pm - Mary's Autumn Reign
5pm - Joe Dumont
6pm - Ronan Boyle
7pm - Lawrence Harkin Band
8pm - Badwellash
9pm - Ten Days Unshaven
10pm -Vicious Cabaret
Bar Absolute

Bar Absolute, 24 Sun Street, Hitchin, SG5 1AH
Tel: 01462 440001
SATURDAY 15 JULY
Bar Absolute DJ's in residence
SUNDAY 16 JULY
Open Decks Day
BAR ABSOLUTE is holding an open decks day for all DJ's during ROTW, on Sunday 16th July. Don't miss the opportunity to witness a fantastic selection of cutting edge DJ's throughout the day from all musical styles.
The DJ who brings the biggest crowd, wins a bottle of Champagne.
Call in or tel. 01462 440001 to register.

Molly Malone's

117, Nightingale Rd, Hitchin, Hertfordshire SG5 1RG
Tel: 01462 636295
There will be an on-going exhibition of photography from local photographers including Anne Fairchild a well respected local artist and photographer who has exhibited in England and abroad. Louise Hoile who captures the essence of the ancient Kingdom of Tibet and Nepal in her amazing photographs.
During the afternoons there will be a barbeque in aid of McMillan Nurses and the Liver Trust.
FRIDAY 14 JULY
9.30pm - Frog Stupid acoustic session
SATURDAY 15 JULY
Young bands, talented and gifted musicians
1.30pm - Sweet Children
2.30pm - Jack Names the Planets
3.30pm - Counterfeit
4.30pm - Adam Foy
NB running order may change.
10.00pm - Ronan
10.45pm - John Grimsey and Friends
SUNDAY 16 JULY
Folky day – original and traditional music
1.30pm - the regulars… Raw talent…and the egg!
2.30pm - Ruth
3.00pm - Hanna Harris
4.30pm - Ayla
8.45pm - Denis Cronin
9.45pm - Drew James
Penthouse
Sun Street
Penthouse event queries: [email protected]
Tropical Dub Storm is a club-night that has been running for over 10 years.
Its aim is to promote forest conservation issues. The music policy is dub and roots reggae – which has a wide appeal and a positive message! There will also be arts/crafts and record stalls, a Caribbean kitchen and visuals with facts about forest protection.
SATURDAY 15 JULY
12noon – 10.30pm: Tropical Dub Storm at Rhythms – the All-Dayer. Free entry
Come in and chill-out away from the hustle and bustle of the stages.
DJs confirmed to-date: Clint (Amigus Downbeat, Hitchin), Clive G (Toyboy Sound, Letchworth), Ras Styler (London), President Shortie (Athens, Greece).
10.30pm – 4am: Tropical Dub Storm – the After-Party
Featuring one of London's finest dub roots reggae sounds, the mighty
Aba-Shanti-I. The ideal complement to a day of festival vibes!"
THERE WILL BE A DOOR-CHARGE FOR THIS AFTER-PARTY EVENT.
SUNDAY 16 JULY
No events
The Half Moon

The Half Moon, Queen Street
Tel: 01462 452448
SATURDAY 15 JULY
3.00 - 6pm - West Coast Jazz
8.00-11pm - Juke Joint
SUNDAY 16 JULY
no events
Market Theatre
SATURDAY 15 JULY
no events
SUNDAY 16 JULY
2pm - Performance of Raqs Sharqi – Egyptian folk dancing by al ámar
3pm - A workshop of basic raqs sharqi moves and steps
4pm - Performance of Raqs Sharqi – Egyptian folk dancing by al ámar
Sir John Barleycorn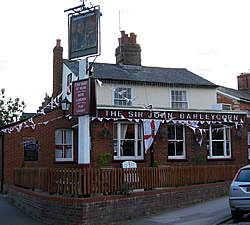 Oughtonhead Way. Tel: 01462 459074
website: www.sirjohnbarleycorn.co.uk
FRIDAY 14 JULY
9pm til close: Silver Fox
SATURDAY 15 JULY
no events
SUNDAY 16 JULY
8pm til close: Ben Smith
The Green Man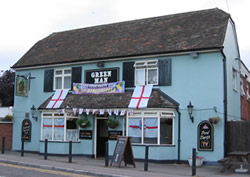 The Green Man, Ickleford
Tel: 01462 432358
We have a programme of music and dancing on stage outside on both Saturday and Sunday as well as face painting, a BBQ and Play Your Cards Right (in aid of The Garden House Hospice) throughout the day.
SATURDAY 15 JULY
2.00pm - Essex Guitar Group
3.00pm - Jamming Session
4.30pm - Al Amar Dance Group
5.30pm - Hitchin Brass Band
7.00pm - Elvis Tribute
9.00pm - Disco (inside)
SUNDAY 16 JULY
2.00pm - Diversion
4.00pm - Cold Jam
5.30pm - Gekko
7.00pm - Hang Loose
9.00pm - Disco (inside)
Hitchin Museum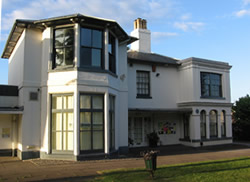 Hitchin Museum, Paynes Park
Tel: 01462 434476
The Museum will be holding workshops by Richard and Elizabeth York with Victorian musical instruments
SATURDAY 15 JULY
All day: a display on Hitchin Folk Club.

11am - 3pm - workshops by Richard & Elizabeth
3pm and 4.30pm - Offley Morris Men
SUNDAY 16 JULY
no events
Pizza Express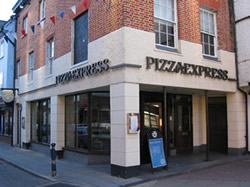 Pizza Express, Sun Street /Market Square
Tel: 01462 450596
SATURDAY 15 JULY
All day Face Painting
SUNDAY 16 JULY
All day Face Painting
Click here if you would like information on how to become a join the Rhythms of the World fringe