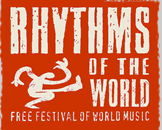 12 & 13 July 2008
essential information
ESSENTIAL INFORMATION
Alcohol Policy
Adults can bring the equivalent of one bottle of wine or 4 cans of beer onto the Festival Site. Spirits will not be allowed. Adult ticket holders will be given a wrist band which will enable them to purchase alcoholic drinks at the Festival. Youth Ticket holders will be given different wrist bands and will not be served alcoholic drinks at the bars.
Readmission Policy
It is a condition of our license that there is no readmission to the site. Anyone leaving the Festival site will be required to purchase another ticket if they wish to return. Please note ticket numbers are strictly limited and it may not be possible to purchase a further ticket at the entrance immediately on your return.
Information Point and ROTW Merchandise Stall
The ROTW Information Point and merchandise stall where you can go for further information and assistance and for a range of ROTW merchandise. This can be found overlooking the Main Stage.
(Refer to the Site Map)
Cash Machine
A cash machine is provided on site adjacent to the ROTW Merchandising Stall overlooking the Main Stage Please note a handling fee will be charged (Refer to the Site Map)
First Aid
There are 2 first aid points which are situated by the St Mary's Stage -and adjacent to the ROTW Merchandising Stall overlooking the Main Stage (Refer to the Site Map)
Lost Children
If lost, or you are looking for lost children please go straight to the nearest Steward for assistance.
Toilets
Toilets are situated around the Festival site (Refer to the Site Map)
Dogs
Dogs will not be allowed on the site, with the exception of Guide dogs
Food and Drink
There are a wide range of stalls and bars selling food and drink from around the world. These are located across the Festival site. Please refer to the Stalls Section for a full list.
Additional / Advance Ticket Sales - cash only
Tickets will be on sale at the Festival entrance on both days (numbers permitting).
Sunday tickets will be available on Saturday on site during the Festival (again numbers permitting).
Car Parking
Parking is available at:
The Lairage Car Park (central Hitchin)
Open (with security guard) until 12.00pm on Saturday and 9.30pm on Sunday.
Butts Close
Parking on Butts Close from 11.00 am onwards on Saturday and Sunday.
Please note you will be asked for a £2 donation, with proceeds going towards ROTW and the Saint Katharine's Ickleford Church Restoration and New Building Appeal. Also, in the event of inclement weather Butts Close will NOT be open.
Disabled Parking
Limited disabled parking is available on site to Blue Badge holders on a first come, first served basis. There are additional spaces around the town.
ROTW Telephone Response Line
ROTW always endeavours to run a safe and enjoyable festival for all. Should you have any concerns regarding safety or sound levels please call the ROTW Response Line on 01462 420500 ext 342
Late trains from Hitchin
There will be engineering works affecting the train services and certain late trains journeys wil be made by bus.
To London: Saturday 00.33 Sunday 23.11 23.40
To Peterborough: Saturday 23.21 Sunday 21.52 22.54
(Part Bus Service)
To Cambridge: Saturday 00.02 Sunday 22.21 22.55
PLEASE do check train times at: National Rail Enquiries on: 08457 48 49 50 or online at the First Capital Connect website: www.firstcapitalconnect.co.uk